Mike Nelson
Trophy head (the Wizard)
2016
Wood, stone, metal, paper, cloth, plastic, leather, paint
21 1/2 x 7 x 25 inches (54.6 x 17.8 x 63.5 cm)
MN 113
Mike Nelson, Imperfect geometry for a concrete quarry, 2016.
Kalkbrottet, Limhamn, Malmö, Sweden.
Photo: Malmö Konsthall.

Mike Nelson
Cloak, 2016
NMNM, off-site project
Photo : NMNM /Sebastiano Pellion di Persano, 2016
Mike Nelson
Untitled (public sculpture for redundant space)
2016
Nylon sleeping bag, concrete, brick and other mixed media
12 x 94 x 31 inches (30.5 x 238.8 x 78.7 cm)
Photo by Timothy Schenck.
Courtesy of Friends of the High Line.
Installation view: Sensory Spaces 8 - Mike Nelson
Museum Boijmans Van Beuningen, 2016
Photo: Studio Hans Wilschut
Installation view: Sensory Spaces 8 - Mike Nelson
Museum Boijmans Van Beuningen, 2016
Photo: Studio Hans Wilschut
Mike Nelson
A7 (Route du Soleil), 2015
Installation view: 13th Biennale de Lyon
September 10, 2015 - January 3, 2016
Mike Nelson
Diyagram (Amnesiac beach fire), 2015
Wood and plastic
15 3/4 x 45 1/4 x 45 1/4 inches (40 x 115 x 115 cm)
MN 101
Mike Nelson
William Wilson
2015
Sticks, shovel, nails, leather, belt buckle
42 x 35 x 24 inches (106.7 x 88.9 x 61 cm)
MN 94
Mike Nelson
Gang of Seven
2013
Installation at 303 Gallery, New York
January 17 - February 21, 2015
Mike Nelson
Gang of Seven
2013
Installation at 303 Gallery, New York
January 17 - February 21, 2015
Mike Nelson
Gang of Seven
2013
Installation at 303 Gallery, New York
January 17 - February 21, 2015
Mike Nelson
Installation view: 408 tons of imperfect geometry
Malmö Konsthall, Sweden
August 18 - October 21, 2012
Mike Nelson
Installation view: I, Imposter
Venice Biennale 2011, British Pavillion
June 4 - November 27, 2011
Photo: Cristiano Corte
Mike Nelson
Installation view: I, Imposter
Venice Biennale 2011, British Pavillion
June 4 - November 27, 2011
Photo: Cristiano Corte
Mike Nelson
Installation view: I, Imposter
Venice Biennale 2011, British Pavillion
June 4 - November 27, 2011
Photo: Cristiano Corte
Mike Nelson
Installation view: I, Imposter
Venice Biennale 2011, British Pavillion
June 4 - November 27, 2011
Photo: Cristiano Corte
Mike Nelson
Installation view: I, Imposter
Venice Biennale 2011, British Pavillion
June 4 - November 27, 2011
Photo: Cristiano Corte
Mike Nelson
Towards a lexicon of phenomena and information association, an intermediate home apparatus - moon high, bone black
2011
Mixed Media
35 1/4 x 25 1/2 x 53 3/4 inches
(89.5 x 64.8 x 136.5 cm)
MN 73
Installation view
Mike Nelson
Quiver of Arrows
303 Gallery, New York
February 27 - April 10, 2010
Installation view
Mike Nelson
Quiver of Arrows
303 Gallery, New York
February 27 - April 10, 2010
Installation view
Mike Nelson
Quiver of Arrows
303 Gallery, New York
February 27 - April 10, 2010
Mike Nelson
Installation view: Le Cannibale (Parody, Consumption and Institutional Critique)
Villa Arson, Nice
October 31, 2008 - February 1, 2009
Photo: Villa Arson / J. Brasille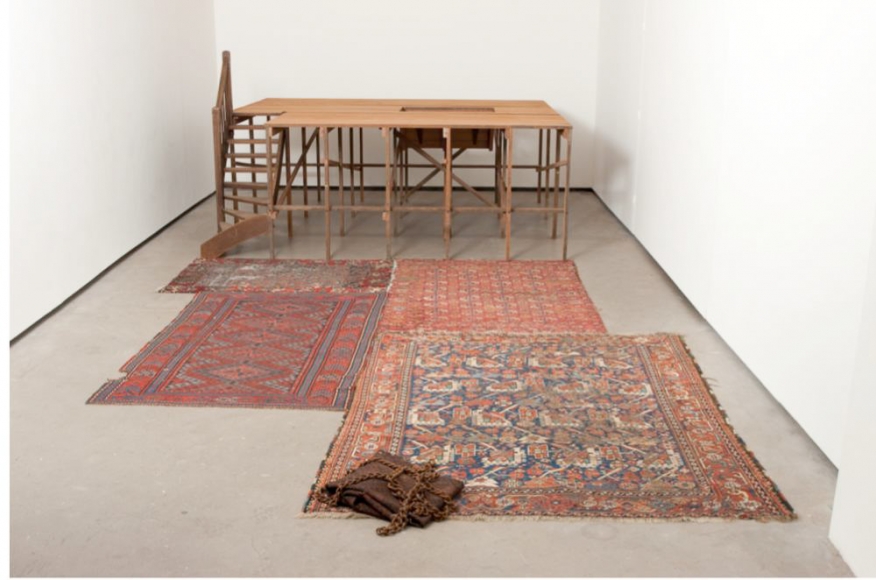 Mike Nelson
Triptych, 2009
Mixed media
53 1/2 x 94 3/4 x 96 inches
(135.9 x 240.7 x 243.8 cm)
MN 21
Mike Nelson
Installation view: A Psychic Vacuum
Commissioned by Creative Time
Old Essex Street Market, New York
September 8 - October 28, 2007
Mike Nelson
Installation view: A Psychic Vacuum
Commissioned by Creative Time
Old Essex Street Market, New York
September 8 - October 28, 2007
Mike Nelson
Installation view: A Psychic Vacuum
Commissioned by Creative Time
Old Essex Street Market, New York
September 8 - October 28, 2007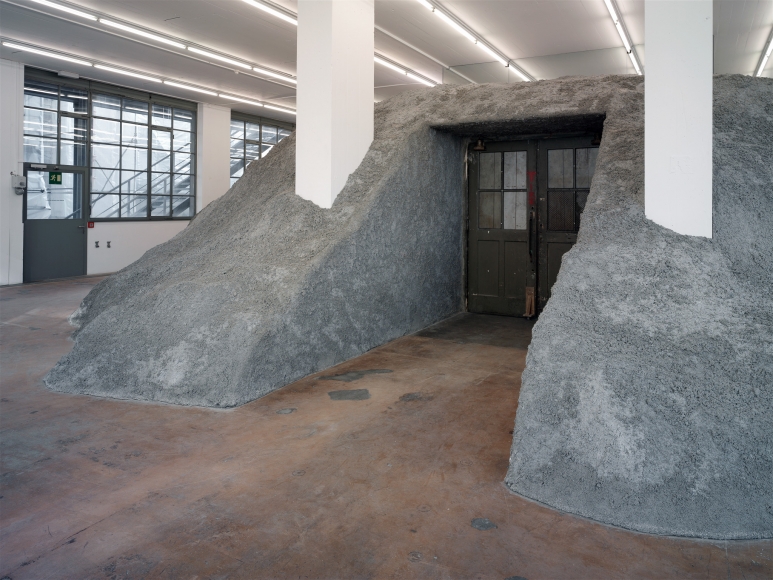 Mike Nelson
Studio Apparatus for MAMCO – An Intermediate Structure For A Museum : Introduction; Building Transplant In Three Sections; Towards A Revisiting Of Futurobjectics (As Voodoo Shrine); Mysterious Island*
*see introduction
Or Humpty Dumpty
MAMCO, Musee d'art moderne et contemporain, Genève
June 7 - September 18, 2005
Mike Nelson
Studio Apparatus for MAMCO – An Intermediate Structure For A Museum : Introduction; Building Transplant In Three Sections; Towards A Revisiting Of Futurobjectics (As Voodoo Shrine); Mysterious Island*
*see introduction
Or Humpty Dumpty
MAMCO, Musee d'art moderne et contemporain, Genève
June 7 - September 18, 2005
Mike Nelson
Triple Bluff Canyon, 2004
Installation view: Modern Art, Oxford
May 8 - July 4, 2004
Mike Nelson
Triple Bluff Canyon, 2004
Installation view: Modern Art, Oxford
May 8 - July 4, 2004
Mike Nelson
The Pumpkin Palace, 2003
Converted 1954 GMC touring bus and various materials
168 x 480 x 102 inches (426.7 x 1219.2 x 259.1 cm)
Mike Nelson
The Pumpkin Palace, 2003
Converted 1954 GMC touring bus and various materials
168 x 480 x 102 inches (426.7 x 1219.2 x 259.1 cm)
Mike Nelson
The Pumpkin Palace, 2003
Converted 1954 GMC touring bus and various materials
168 x 480 x 102 inches (426.7 x 1219.2 x 259.1 cm)
Mike Nelson
The Pumpkin Palace, 2003
Converted 1954 GMC touring bus and various materials
168 x 480 x 102 inches (426.7 x 1219.2 x 259.1 cm)
Mike Nelson
Melnais Kakis, 1999
Mixed media
2 rooms: 10 x 12 x 8 ft (304.8 x 365.8 x 243.8 cm) each
MN 6
Mike Nelson
Melnais Kakis, 1999
Mixed media
2 rooms: 10 x 12 x 8 ft (304.8 x 365.8 x 243.8 cm) each
MN 6
Mike Nelson
Melnais Kakis, 1999
Mixed media
2 rooms: 10 x 12 x 8 ft (304.8 x 365.8 x 243.8 cm) each
MN 6
Mike Nelson
To the Memory of H.P. Lovecraft, 1999/2008
Installation view from Psycho Buildings: Artists Take on Architecture at The Hayward
The Hayward, London
May 28 - August 25, 2008
Photo: Stephen White
Mike Nelson
To the Memory of H.P. Lovecraft, 1999/2008
Installation view from Psycho Buildings: Artists Take on Architecture at The Hayward
The Hayward, London
May 28 - August 25, 2008
Photo: Stephen White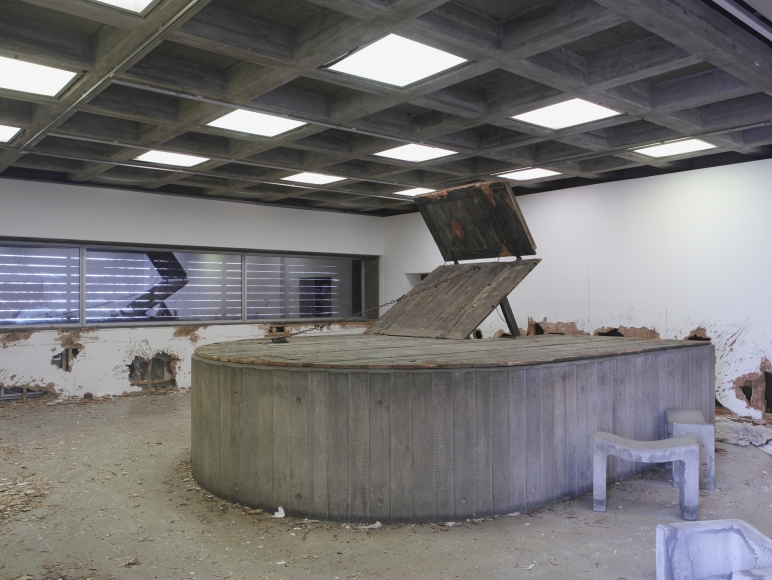 Mike Nelson
To the Memory of H.P. Lovecraft, 1999/2008
Installation view from Psycho Buildings: Artists Take on Architecture at The Hayward
The Hayward, London
May 28 - August 25, 2008
Photo: Stephen White
Mike Nelson
The Amnesiacs, 1997
Mixed media
Mike Nelson
Agent Dickson at the Red Star Hotel, 1995
Mixed media
111 3/4 x 111 3/4 inches (283.8 x 283.8 cm)
MN 8
Mike Nelson
Agent Dickson at the Red Star Hotel, 1995
Mixed media
111 3/4 x 111 3/4 inches (283.8 x 283.8 cm)
MN 8
Mike Nelson
Agent Dickson at the Red Star Hotel, 1995
Mixed media
111 3/4 x 111 3/4 inches (283.8 x 283.8 cm)
MN 8